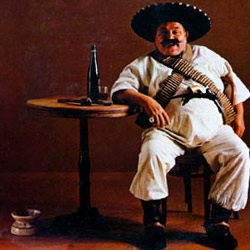 Zum Thema: Sachen, die ihr euch nicht vorstellen könnt hier mein erster Beitrag. Also: Ihr könnt euch nicht vorstellen, wie viel Internet-Porno ich untersuchen musste, bis ich das passende Fickgestöhn gefunden hatte, um es als "Spezial-Effekt" in meinem letzten kleinen Machwerk "My Favourite Nightmare" zu verwenden. Das war tatsächlich harte Arbeit! Entweder es klingt unnatürlich synchronisiert, oder der Typ quatscht die ganze Zeit irgendwas dazwischen, oder die Tussy kreischt so rum, dass es abtörnt, oder es läuft irgendeine bescheuerte Musik dazu.
Kann wohl von Glück sagen, dass ich über meine Recherchen nicht depressiv geworden bin, wo man doch genau weiß, dass Online-Pornos Depressionen verursachen.
"My Favourite Nightmare" – [download]
Things you couldn't quite imagine
Spinning 'round and 'round my head
Fragments from a mind so fragile
Visions of the things you did
Pull me down and praise the morning
Gaze beyond a naked dream
In your sweat, your pain, your sorrow
Things are not quite what they seem
In your favourite nighmare
I'm the time you came to borrow
Vanity distorted views
I'm the sand you're forced to swallow
And the faith you'll never lose
Pull me down and pray for shelter
Wake me up and ease the pain
Feed me blood and fire and thunder
Things are not quite what they seem
In your favourite nightmare
Felt like I was walking on the edge of madness and beyond
And I had no money on me, and no voice to sing no songs
I was frightened, frozen, blinded
Waiting all the time for you
On your own way you decided
After all to make come true all my favourite nightmares
© 2008
Tags: depressionen, download, internet-porno, mp3, nightmare, porno, songs, unvorstellbar
posted on Sunday, December 21st, 2008
and is filed under
Unsortiert
. You can follow any responses to this entry through the
RSS 2.0
feed. You can skip to the end and leave a response. Pinging is currently not allowed.