Ich muss auf Custard Pies nochmal hinweisen, diese völlig verschärfte, fast schon beängstigend gute Led-Zeppelin-Tribute-Band spielt am 23.11.2007 in Bonn in der Klangstation!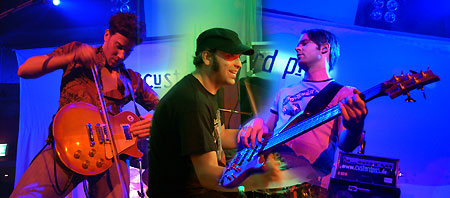 Kann ich nur allerwärmstens empfehlen, was die Brüder anbieten, ist einfach fabelhaft und geht weit über das hinaus, was man üblicherweise von reinen Cover-Bands so gewohnt ist. Staunen kann man nur über Frontmann Pascal Cherouny, der in dieser Band Gitarrist und Sänger in Personalunion darstellt. Wer Zeppelin- Musik liebt, so wie ich selber, wird an dieser hervorragenden Band mit Sicherheit seine helle Freude haben!!
Tags: bonn, cover, custard pies, klangstation, konzert, led zeppelin, tribute
posted on Wednesday, November 7th, 2007
and is filed under
Unsortiert
. You can follow any responses to this entry through the
RSS 2.0
feed. You can skip to the end and leave a response. Pinging is currently not allowed.