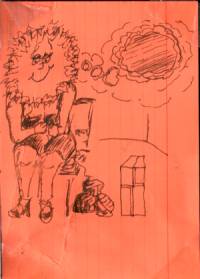 Hier, diese strickende Sonnenfrau, die an sowas wie eine Bildstörung im Fernsehen denkt, hab ich – das blogg ich jetzt einfach mal so zwischendurch hinein – so in den frühen 90ern irgendwo hin gemalt, hab´s neulich angelegentlich meines Umzuges wiederentdeckt und mich gefreut, dass ich es noch hab. Totaler Blödsinn, noch nicht mal gut gezeichnet, aber mir gefällt es trotzdem, auch wenn ich absolut keine Ahnung mehr habe, was ich mir damals damit wohl gedacht habe.
Tags: blödsinn, sonnenfrau, spaß, zeichnung
posted on Sunday, August 3rd, 2008
and is filed under
Unsortiert
. You can follow any responses to this entry through the
RSS 2.0
feed. You can skip to the end and leave a response. Pinging is currently not allowed.